VARSITY HEAD COACH
GREG LOWELL 
This is Coach Lowell's 33rd year with Inglemoor Basketball & his 30th year as Head Coach.
Coach Lowell graduated from Anacortes High School in 1981 where he played guard on three state basketball teams. He was an all-state baseball player his senior year and a quarterback holding a state record for single game passing yardage in a season. He attended Washington State University from 1981-1983 (playing baseball while attending) and earned a Bachelor's Degree in Mathematics Education from Western Washington University.
His first coaching duties were as an assistant basketball, football, and baseball coach at Blanchet High School from 1985-1987. Coach Lowell became an assistant basketball coach at Inglemoor in the 1987-1988 season and assistant football and track coach in the 1989 season.
Coach Lowell is beginning his 25th year as the head basketball coach at Inglemoor. He has compiled a record of 343 wins and 287 losses. He has had 23 league playoff teams, 20 district playoff teams, and took Inglemoor to the state tournament in the 1991-1992 ,2004-2005, 2005-2006,  2008-2009  and 2016 – 2017 seasons. The 2004-2005 and 2005-2006 teams won back to back Kingco 4A league and district championships finishing 5th and 8th respectively at State. The 2008-2009 team finished 7th in State. He has served as the Washington Interscholastic Coaches Association representative for nine years and was named KINGCO Coach of the Year for the 1995-1996 , 2001-2002, 2004-2005, 2005-2006 and 2016-2017 seasons. In 2006 he was named the Seattle Times All Area Coach of the Year. Coach Lowell was the Eastside Journal newspaper's Coach of the Year for the 1999-2000 season.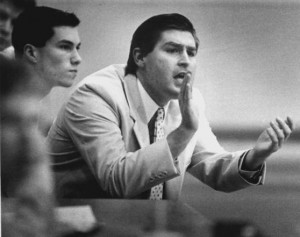 Coach Lowell in the early years of his coaching career
*****************************************************************************
JUNIOR VARSITY HEAD COACH
Mitchell (Mickey) Blackburn
This is Coach Blackburn's 4th year with Viking Basketball – Coach Blackburn is originally from San Ramon California. He moved to Seattle and attended the University of Washington where he earned his bachelor's Degree in History and his Masters in Special Education. He is also a 2011 Alumni of the prestigious University of Washington, Danforth Educational Leadership Program.
Coach Blackburn taught for 9 years in Seattle and Issaquah prior to joining Northshore School District and Inglemoor High School for the 2014 – 2015 school year as a Special Education teacher.
Coach Blackburn has coached both boys and girls in a variety of sports at every level from high school on down.  He has experience as a Basketball coach in Issaquah and is the Inglemoor boys C-Team baseball coach.
*****************************************************************************
Picture Pending
C-TEAM HEAD COACH
Evan Peterson
This is Coach Peterson's 3rd year with Viking Basketball – Coach Peterson was born and raised in Kenmore.  He graduated from Inglemoor High School in 2007, where he played football and basketball.  He was a member of the varsity rowing team at Oregon State and graduated in 2011 with a bachelor's degree in history.  He attended the University of Washington Bothell graduating with a Masters of Education in 2015.  He coached football at Inglemoor High School for two years.  In his spare time he enjoys hiking, golfing, and Seattle sports.